GRP Advantages/properties
GRP, Glass Reinforced Plastics also known as 'Fibreglass', a composite material. It has a unique set of properties which make it suitable for a wide range of applications, offering advantages over other materials.
Material Freedom
GRP is one of the most versatile materials, it offers a wide scope of complex shapes that can be fabricated or moulded to meet any demand or requirement. The properties of GRP therefore become a designers dream, being easily tooled moulded and manufactured.
Strength & Durability
GRP is an attractive light weight material, with its high weight to strength ratio, it is a popular choice for designers. The strength and durability of GRP can be increased by reinforcements being manufactured into all or specified areas of the component. The durability and high resistance to the environmental effects on GRP make it ideal for any application.
Appearance
The appearance of GRP products are mainly controlled in the manufacture of the product. The appearance is determined by the gel coat on the moulding. Appearances of gel coat are in a wide range of colours, and can have a gloss or matt finish to them. The surface appearance of the product can be determined by the mould, a textured or smooth surface is easy to produce.
Maintenance
GRP has excellent durability and strength properties which help to minimise the work that is required to maintain the GRP product, it does not rust, rot or fall to pieces.
There are many different type of resins all with slightly different properties allowing GRP to be extremely versatile and achieve any specification.
GRP Moulding
GRP moulding process
The first process is to design and draw the product requirement. At UK Hydroslides we have the ability to manufacture from drawing or produce drawings from design sketches or ideas.
The plug and Mould
The plug is used to manufacture the mould/tooling for the product. Plugs used at UK Hydroslides are mainly wooden but they can be made from a wide range of materials to achieve the desired requirement. At UK Hydroslides we have the ability to manufacture wooden plugs, with access to a 5 axis CNC machine. A mould/tool can also be produced from a product or sample. A mould/tool is then produced from the plug. The mould is where the high quality and appearance of the final product is key and at UK Hydroslides we pride ourselves on our ability to produce highly complex mouldings.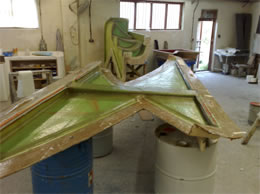 Manufacturing
At UK Hydroslides we manufacture from small batch production to line manufacture, but we can also manufacture prototypes and one offs as at times this is all that is required.
Due to our vast range of skills, ability, technology and experience we are able to manufacture and meet any requirements and specification you have.
Finishing
At UK Hydroslides we base our selves on high level of quality work. This is where the product is cut, fitted and finished to specification. The product is then checked following our ISO 9001 standard and authorised by the quality assurance manager before packing and dispatch.
If required we also offer the ability to spray products to the required specification. Due to the high and wide range of quality that the gel coat of the moulding can produce, spraying of GRP products is normally only used on Phenolic components.
The UK Hydroslides manufacturing process does not stop there, We also offer the ability to :
Assemble
Deliver
Install
Laminate on site
With our wide range of skills, ability, technology and experience we are able to consider any job or requirement.
Please Contact Us with any enquiries.