With it's advantages including a high strength to weight ratio, weather and corrosion resistance and being virtually maintenance free, GRP (Glass Reinforced Plastic ) can offer a long lasting and cost effective solution to your cabinet, canopy, enclosure, shelter or housing requirements.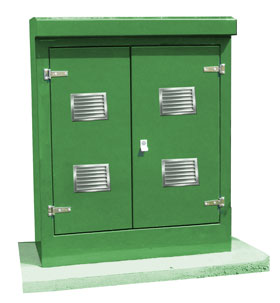 Popular applications for our enclosures include Air Conditioning Motors, Switchgear Enclosures, Generator, Transformer, Control Panel, Distribution Board,Valve and Tank housings, Bus Shelters, Smoking Shelters……………..
Part of glassfibre's appeal is the possibility of replicating traditional materials whilst often saving weight, money, time and complication. Mouldable to virtually any shape, capable of taking almost any load, and available to comply with any fire rating, this is truly a modern material.
Our specialised moulding personnel manufacture unique and specific moulds to suit any application. Please call 01446 794649 for details.
We manufacture a wide range of retail and entertainment displays. In a wide range of sizes, shapes, colours and compiosit inserts.

Advantages of GRP Shopfittings, Display Housings and Signs
Lightweight
Impact resistant
Customised shapes easily achievable
Dimensionally stable
Suitable for paint applied finishes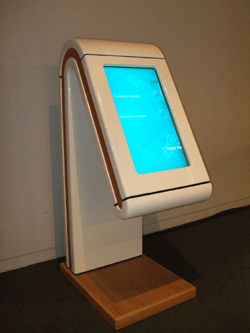 Information display for @Bristol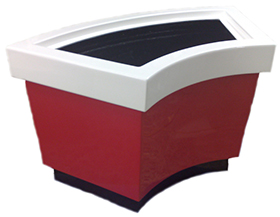 Display console for Techniquest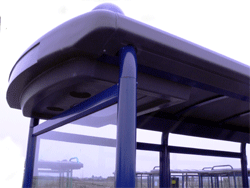 Bus Shelter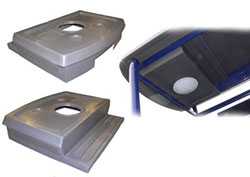 Bus Shelter Bottom Pod
Advantages of GRP Cabinets and Shelters
Cost effective
Lightweight
High strength to weight ratio
Indefinite life expectancy
Low maintenance
Chemical resistant
Corrosion proof
Impact resistant
Hygienic
Easy to clean
Seamless (if required)
Can be fire retardant
Made to your own specific requirements
Any colour